Galaxy Fountains and More
Crossbow
For a variety of reasons, many of our clients become friends and many make the trek out to CrossBow, our ten-acre sculpture garden and studio. We're located in Bucks County, PA in the middle of a deep woods, and in a location which...if you don't know how to get here, you'll never find it. Here are some shots of sculptures on the property, as well as the Pax Notarius, our largest functioning sculpture/tree house/great place to party. It's a big black schooner up in the trees with giant irridescent sails and a view of the whole ten acres.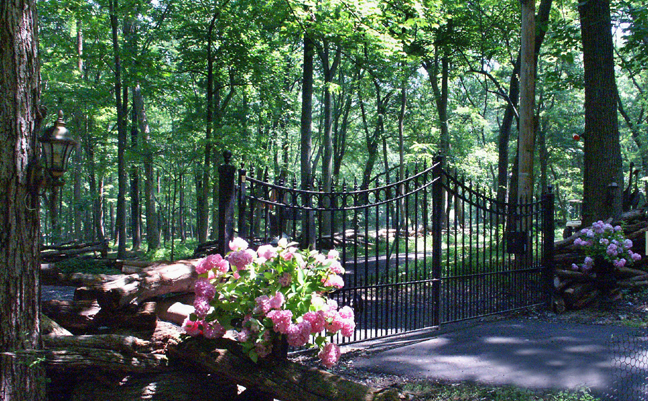 Entrance to CrossBow
Here's the entrance to CrossBow. If you look really really close,(behind the left gate) you can see Pax Notarius, pictured below.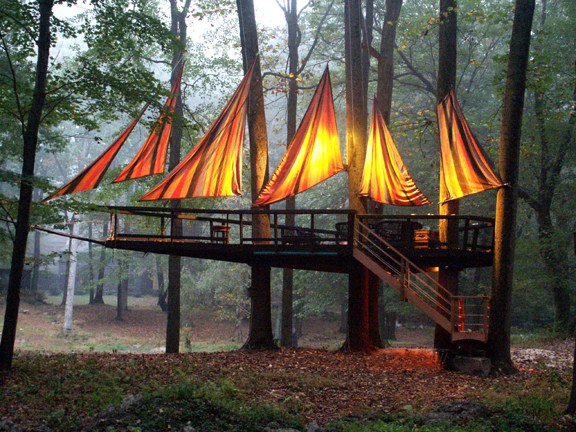 Pax Notarius
The Pax Notarius was named for an old friend Harold Notarius who was not only a friend, but a terrific mentor. We miss him. The ship is docked about ten feet in the air. It's about fifty feet long and provides an amazing place to spend a midsummer night.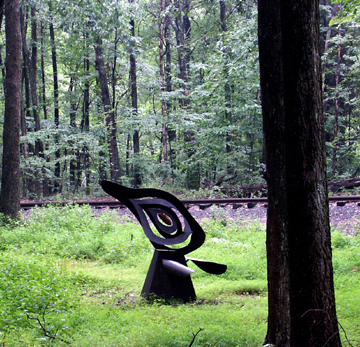 Quog
Quog: We are nothing if we are not candid here. This is one of the rare category of sculptures that we have no idea what to name it, or even what it is. We have theories, but so far the only thing we could come up with was.....Quog, and I have no idea what that even means. Any (serious)suggestions as to what it is or what it should be named, would be greatly appreciated.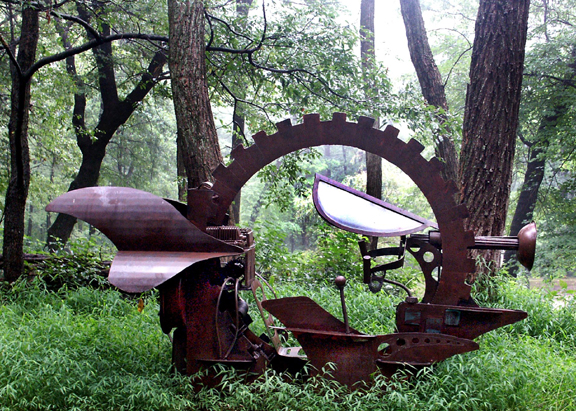 British Time Machine
This is one of the first machines to greet you when you come up the driveway. It's a time machine of pre-WWI vintage...(British, we think), though most of the serial numbers have been filed off. We also have a Soviet time machine of similar vintage that is in the process of being restored. Though predictably, it is more ominous in appearance...and has guns.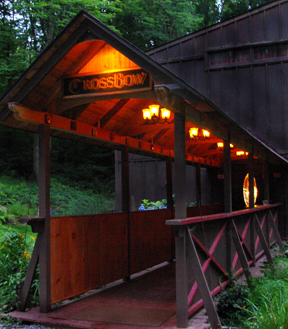 CrossBow's Covered Bridge
Here is a shot of the entrance to our house. For a long long time we had a problem in that there was a stream running right across where you're supposed to walk to get in. Sounds picturesque, but it wasn't, particularly in the winter. Now we have our own "covered bridge" Harvey-style, complete with four iron chandeliers and about forty Mercer tiles. Strangely this once ugly area is now a focal point and we have mini parties here, with barstools so everyone can watch the frogs and fish...and I don't have to shovel it anymore. Yaay!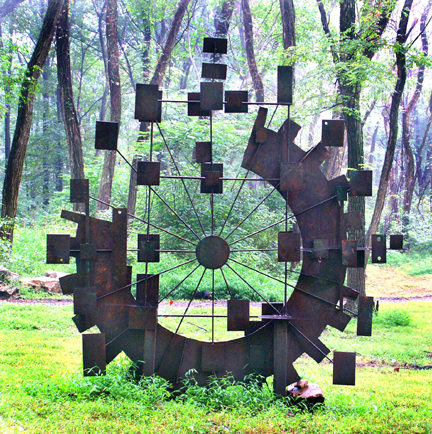 SHOGUN
This one stands about eight feet tall and is about the same width. It is constructed from Cor-Ten steel and was a lot of fun to make...not so much fun naming. We're a small family, all of us egotists and certain that our name is the best. Finally...finally we found a name we could all agree on. This one greets you as you come up the driveway.